SÉRIE COPIES 1
Material
Um tube para decorar
Plugin MurA's Meister
Mask aqui

1.- Abrir uma imagem transparente 250x250pxs e preencher com uma gradiente:
radial, H=100, V=0, angle=250, repeat 10, invert clicado;
2.- Effects, artistic effects, chrome 3, 64, Use original color clicado, branco;
3.- Effects, Texture effects, Weave, 3, 3, 100, Color escura, gap branco, fill desclicado;
4.- Effects, distortion effects, Wave, H= 0, 1, V= 10, 55, transparente;
5.- Effects, Image Effects, Seamless Tiling Default;
6.- Layers, Add New Layer, Arrange, Send to Bottom;
7.- Preencher esta layer com a cor usada no Weave, merge all.
(itens 1 a 7, opcionais, esta pattern será para o fundo do top, pode ser substituida pela gradiente)
8.- Abrir nova imagem 1000x500pxs e preencher com uma gradiente:
radial, H=100, V=0, angle=250, repeat 10, invert clicado;
9.- Effects, artistic effects, chrome 3, 64, Use original color clicado, branco;
10.-Effects, Reflection Effects, Rotating Mirror, H=100, V=-50, Repeat, Rotation= 280;
11.-Selecionar a cor sólida, deletar e tirar a seleção;
12.-Image, Resize 75%, all layers declicado;
13.-Image Mirror;
14.-Effects, Distortion effects, Twirl, Degrees -480;
15.-Plugin MurA's Meister, copies, assim: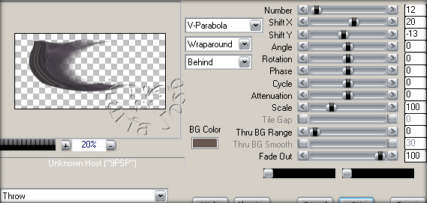 16.-Layer duplicate, Image mirror;
17.-Layers, Merge Visible;
18.-Effects, 3D Effects, Drop Shadow, 5, 0, 50, 20,00, preto, repetir V=-5;
19.-Layers, Add New Layer, Arrange Send to Bottom;
20.-Preencher com a pattern que foi feita no início ou a gradiente;
21.-Adjust, Blur, Radial Blur, Zoom e Elliptical clicados, Strength 100, Center 0, 0, 0;
22.-Adjust, Add Noise, Gaussian =7, mono clicado;
23.-Aplicar uma mask que apreciar ou use esta que usamos;
24.-Layers, Merge Group e drop shadow como no item 18, sem repetir;
25.-Layers, Add New Layer, Arrange Send to Bottom;
26.-Preencher esta layer com a cor do top;
27.-Ativar o tube, copiar e colar ao centro do top;
28.-Layers, Merge all, assinar e salvar em JPG.
O exemplo abaixo o fundo foi preenchido com uma gradiente.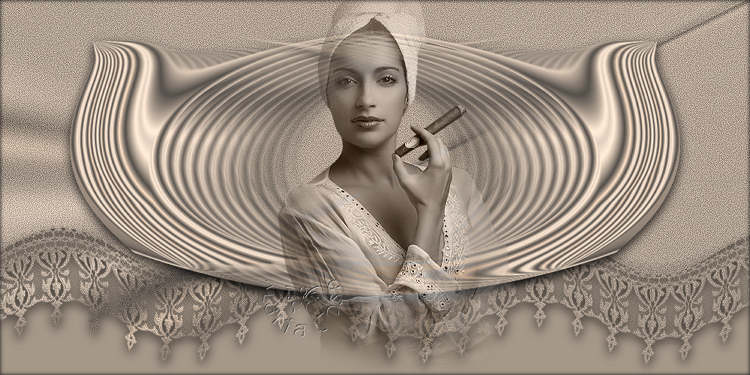 Este tutorial foi criado em 15 de março de 2007 por Maria José Prado. É protegido por lei de Copyright
e não poderá ser copiado, retirado de seu lugar, traduzido ou utilizado em listas de discussão
sem o consentimento prévio e escrito de sua autora acima declinada.