TOP IMAGINATION
Material
Um misted
um tube
Plugin Flexify
1.- Abrir uma imagem 1024x500, selecionar;

2.- Ativar o misted, copiar e colar dentro da seleção;

3.- Tirar a seleção;

4.- Adjust, Blur, Radial Blur. Spin clicaco, Blur 50, Elliptical, Center H -100, V -100, Protect 5;

5.- Plugin Flexify, 23, 180, -30, 150, Flip clicado, Polar, Hiperdouble, normal;

6.- Adjust, Add Noise, 5, Uniform, Mono clicado;

7.- Effects, Edge Effects, Enhance;

8.- Layers, Add new layer, Arrange, Send to Bottom;

9.- Prencher esta layer com uma cor de destaque;

10.-Effects, Texture Effects, Tiles, hexagono;

11.-Layers, Merge Visible;

12.-Ative o misted e o tube;

13.-Image resize o tube feminino, copiar e colar no misted;

14.-Acertar o tube sobre o misted, mergir visible;

15.-Aplicar uma mask Circular (nevoa, por exemplo), se precisar aplique duas vezes;

16.-Layers, Merg Grup, copiar e colar no centro do top;

17.-Ajustar a imagem como gostar;

18.-Layers, Mergir, aplicar uma mask de borda;

19.-Layers, Merge Group, aplicar Drop Shadow, gosto pessoal;

20.-Layers, Add New Layer, send to bottom e preencher com a cor predominante;

21.-Mergiar as layers, assinar e salvar em JPG.
Outro exemplo: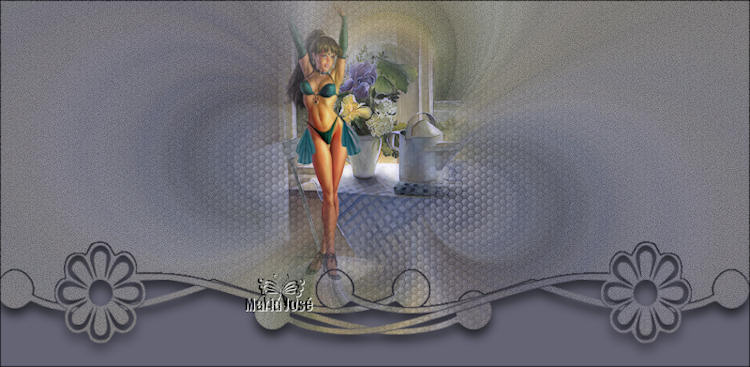 Este tutorial foi criado em 09 de abril de 2008 por Maria José Prado. É protegido por lei de Copyright e não poderá ser copiado, retirado de seu lugar, traduzido ou utilizadoem listas de discussão sem o consentimento prévio e escrito de sua autora acima declinada.