TOP PARIS
Material
Um misted horizontal
Plugin Virtual Photographer
Plugin Eye Candy 4000
1.- Abril uma imagem transparente 1024x500 e preencher com uma gradiente
Style Sunburst, Angle 0, Repeats 5, Center H 100, V 50, Focus H e V 50;
2.- Effects, Distortion Effects, Lens Distortion, 150, 500, Fisheye, Field 179, Repeat clicado;
3.- Effects, Geometric Effects, Circle, Transparente clicado;
4.- Image Resize 70%, all layers declicado;
5.- Com a Magic Wand selecionar a pare interna do circulo;
6.- Selection, Modify, Contract 5, Modify, Feather 10;
7.- Copiar e colar o misted dentro da seleção, tirar a seleção;
8.- Plugin Eye Candy 4000, Glass, Settings Clear Galss, assim: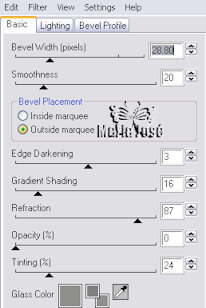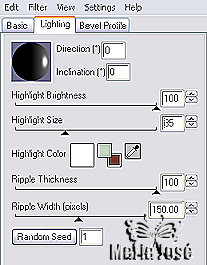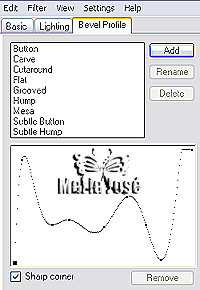 9.- Effects, Drop Shadow, -5, 5, 60, 20, preto, Repetir 5, -5;
10.-Layers, Add New Layer, Arrange, Send to Bottom, preencher com a cor predominante;
11.-Repetir o passo 3;
12.-Repetir passo 4, mudando para 80%;
13.-Repetir passo 8, 9 e 10;
14.-Aplicar nesta ultima layer uma textura;
15.-Layers, Mergir vivisel;
16.-Plugin Virtual Photographer, Preset OldNewspaper;
17.-Aplicar uma mask de borda, layers merge group;
18.-Ativar o misted, copiar e colar à esquerda;
19.-Na palette de layers, mudar o blend mode para Luminance (Legacy);
20.-Layers, Duplicate, Image Mirror;
21.-Layers, Add New Layers, Arrange Send to Bottom;
22.-Preencher esta layer com a cor do top, mergir as layers, Assinar e Salvar em JPG.
Este tutorial foi criado em 12 de abril de 2008 por Maria José Prado. É protegido por lei de Copyright e não poderá ser copiado, retirado de seu lugar, traduzido ou utilizadoem listas de discussão sem o consentimento prévio e escrito de sua autora acima declinada.